The Wisconsin Supreme Court race is now a "razor thin" race in internal polling, Wisconsin Right Now has learned.
Conservatives "need to CRAWL THROUGH SHATTERED GLASS if necessary to get to the polls" and vote for former Justice Dan Kelly, a law-and-order candidate who believes in the rule of law and not legislating from the bench, in the state Supreme Court race, the insider said, noting that absentee ballot turn-in rates in the WOW counties are higher than those in Milwaukee and Dane counties.
The insider spoke on the condition of anonymity, but the news comes after Kelly began closing the gap. Kelly was behind by 2 points in the last polling in the race.
The insider said conservatives now believe Dan Kelly can win the election, but it's literally going to come down to turnout – whether conservatives turn out and vote, including Trump voters who usually vote only in presidential elections.
Now it's basically a dead heat, the insider told WRN.
State GOP Chairman Brian Schimming told a group of conservatives in Calumet County on March 31, 2023, that, 11 times in the 22 years, candidates lost or won by 30,000 votes in Wisconsin, with some Supreme Court races a 7,000 margin. He said the Supreme Court race is the "most consequential election in decades" in Wisconsin.
At the same event, U.S. Senator Ron Johnson and Congressman Glenn Grothman also urged people to vote for Kelly and asked conservatives to reach out to 10 people they know who don't consistently vote and urge them to go to the polls.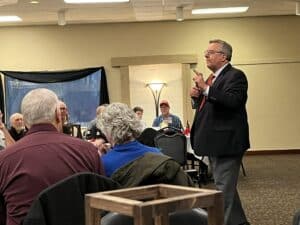 Left-wing candidate Janet Protasiewicz, who has been dealing with accusations that she committed elder abuse, used racial slurs, and has a history of weak sentences for violent offenders, has called Act 10 unconstitutional and legislative maps rigged. Act 10 has saved property taxpayers $16.8 billion since 2012, so voters face the very real prospect of increased property tax bills if a Protasiewicz victory gives liberals control of the court.