Milwaukee County Supervisor Ryan Clancy Posts Molotov Cocktail: Clancy, who is known for his anti-police rhetoric, posted a meme on Valentine's Day that references Molotov cocktails and the Milwaukee Police Department.
The meme reads, "My love for you burns hotter than a Molotov cocktail," and then includes the logo of the Milwaukee Police Department.
Ryan Clancy Posts Molotov Cocktail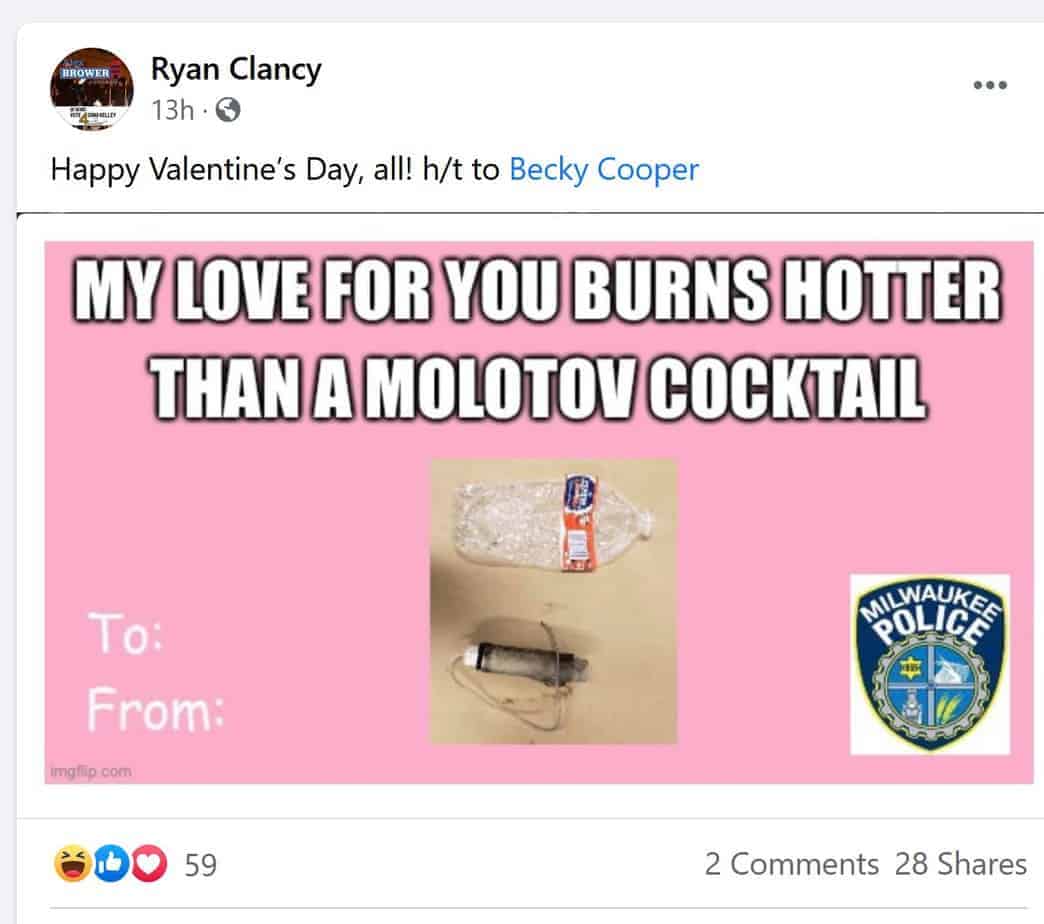 Is this inciting violence against police? Or just making a sick joke of something serious? You be the judge. The photo Clancy posted is of a water bottle that Milwaukee police said was thrown at officers. On June 2, 2020, MPD wrote, "Protestors have been ordered to disperse due to unlawful assembly after throwing rocks and glass at our officers. A suspect with a gun who was in the crowd has been taken into custody by MPD. For our safety and the safety of our residents we had used gas to disperse the crowd."
It later turned out that the bottle was not a Molotov cocktail but was a "plastic device, fish tank pump with tube," the Milwaukee Journal Sentinel reported. That's the photo in Clancy's graphic.
However, the Milwaukee Journal Sentinel reported that a video clip "showed protesters throwing objects, including plastic water bottles, at a line of police officers." The newspaper added that MPD "had seen Molotov cocktails during earlier nights of unrest."
Is that funny?
Is referencing Molotov cocktails and police in a meme a joking matter?
There have been other serious incidents involving Molotov cocktails in Milwaukee, and they aren't funny at all; on June 5, Matthew D. Krueger, U.S. Attorney for the Eastern District of Wisconsin, announced that his office filed a federal criminal complaint against Tyshaun T. Smith, 26, of Milwaukee. "
The complaint charges Smith with attempted arson of a Boost Mobile store at 949 North 27th Street in Milwaukee, in violation of Title 18, United States Code, Section 844(i), and possession of destructive device, namely a Molotov cocktail, in violation of Title 26, United States Code, Sections 5861(c), 5845(a), and 5845(f)."
In addition, Milwaukee protester Vaun Mayes is still facing federal charges in the alleged Molotov cocktail plot involving an MPD police precinct. Prosecutors allege that he "abused his mentoring responsibilities to children" through a community program, Program the Parks, that he ran in Sherman Park "by encouraging them to attack police and teaching them how to make Molotov cocktails," court documents show.
The court documents allege the Molotov cocktails were made out of bottles from Mikes' Hard Lemonade, Everfresh juice, and Seagram's escape wine coolers. The complaint alleges Mayes was seen "wearing gloves and filling the bottles with gasoline, dipping ripped shirts into a bowl of gasoline and placing the soaked fabric into the tops of the bottles."
It adds, "Some of the youth who participated in Mayes' Program the Parks were present for the manufacturing of the Molotov cocktails and were asked to throw rocks at police." Mayes is fighting the charges.
Clancy is the supervisor who sponsored a resolution commending a protest/riot group whose members were involved in the violent assault against two police officers at their own home. That resolution said they made the city safer, even though a member of the protest/riot group was charged with a felony for discharging a gun toward the two officers.
Clancy's post right before the Molotov cocktail graphic trashed MPD for helping a man propose to his girlfriend. "MPD: we couldn't possibly reign in the millions of dollars of overtime every year! Also MPD: This. And handing out baseball cards and ice cream. And any window dressing and propaganda to distract from calls for actual change," he wrote.
Clancy is a County Supervisor, District 4 at
Milwaukee County Board of Supervisors
. He is a "former educator at Milwaukee Public Schools" who worked for the Peace Corps. He claims he studied conflict resolution and "peacebuilding."