Video captures the sounds of police arresting Alvin Cole's mother Tracy Cole, who wails and cries that her arm is broken and that she couldn't breathe.
Police, describing an incident that matches the Tracy Cole incident, said that they stopped cars that were driving all over the road and tried to arrest people for curfew, but they resisted and wouldn't come out of the vehicles. You can read the police accounts here.
In videos, the mother kept saying that she was Cole's mother and police had killed her month. Police haven't released their version of the arrest.
Vaun Mayes, a BLM activist in Milwaukee, is claiming on Facebook that Alvin Cole's mother Tracy Cole was "pulled out of a car and thrown down." He also claimed she was struck and injured and shared a live video that originated from the page of Tahudah Cole.
Other social media posts claimed Tracy Cole's mother's arm was broken and that she and Cole's sisters were arrested. Wauwatosa police gave us this statement when we asked if Cole's mother was arrested and injured, his sisters arrested and Jacob Blake's father arrested:
This is a developing story,and we're still trying to learn details. The information broke on social media around 9 p.m. on Oct. 8.
https://twitter.com/zerosum24/status/1314422387232976896?s=20
We reached out to Wauwatosa police and asked for their comment and confirmation of all of this. Mayes shared a lengthy video, which you can watch below.
https://www.facebook.com/imsexy.cole/videos/3598138563571210/
"Alvin Coles mother was pulled out of a car and thrown down. She was injured, I was told she was struck, and her head was bloody. This is how Tosa handles disabled mothers of the teenagers they kill," he wrote.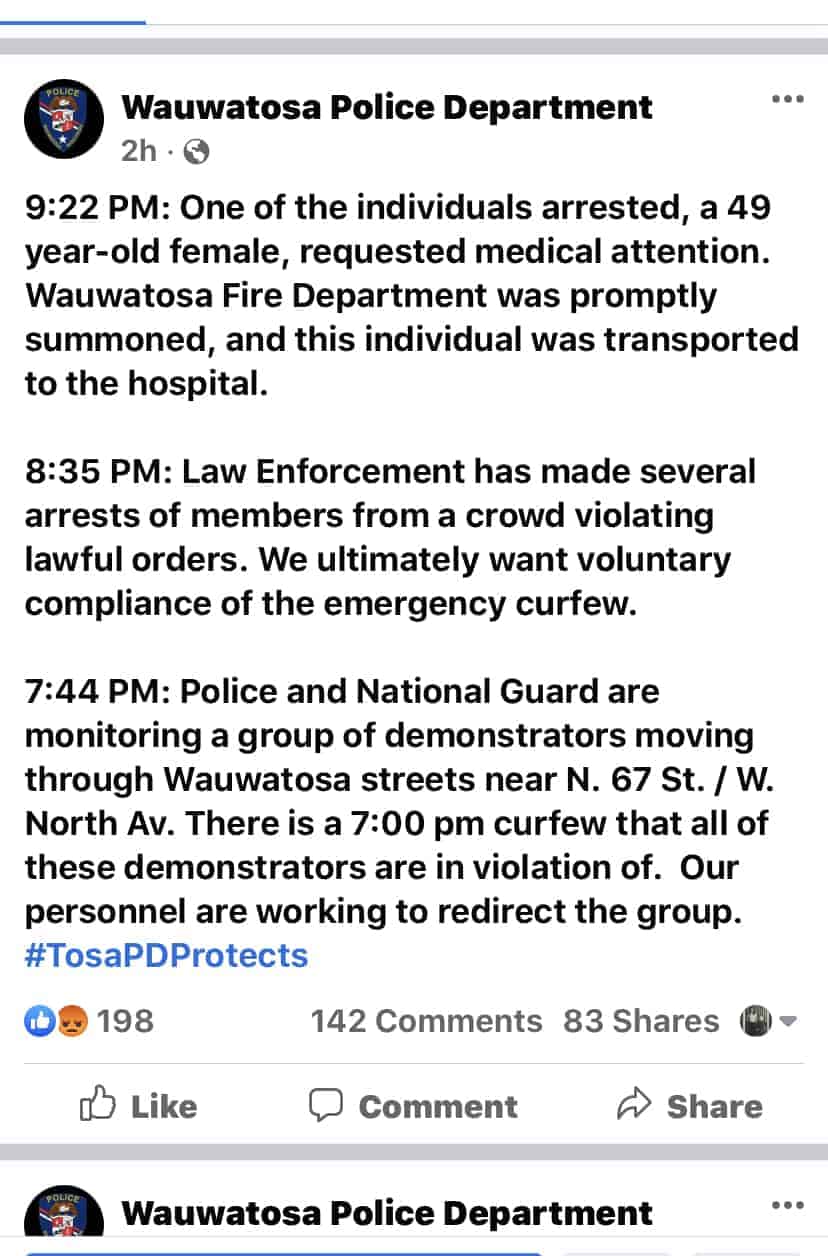 We've also asked police whether the claims in this post are true referring to Jacob Blake Sr. and other members of the Cole family.
Tracy Cole has spoken out publicly about her son, once saying, "We want him (the officer) fired and convicted, and I'm not gonna rest until it's done."
Here's the video Mayes shared:
https://www.facebook.com/YungLz/posts/10158723417062394
People were already expressing anger on Facebook. "Wauwatosa, every impulse you have right now is wrong. Do better. Neighbors, the Cole family who suffered the indignity of failed justice yesterday has reportedly been arrested. Alvin's mother has quite possibly had her arm broken in the process. We owe this family space to grieve not more pain. Write the mayor, write the entire council. Copy the clerk on everything. WRITE THE PFC AND DEMAND THAT THEY FIRE MENSAH AND WEBER. #dobettertosa," wrote one Wauwatosa woman. Again, we have written police seeking comment on all of this.
Alvin Cole was the 17 year old teenager who was shot and killed by Wauwatosa Police Officer Joseph Mensah outside Mayfair Mall. District Attorney John Chisholm declined to file charges against Mensah, noting that Alvin brought a stolen gun to the mall, it discharged, grazing him in the arm, and then police say he pointed the gun at Mensah.
That decision has sparked two nights of marches through Wauwatosa. Wauwatosa police made a single arrest on Oct. 7, despite widespread defiance of curfew, sporadic looting, smashed windows of businesses, and rocks being tossed at officers. Read our story on that here. At least 10 properties were damaged, police said.
Other videos circulated showing arrests on Oct. 8.
We will update our story as more information is learned about Cole's mom.
https://twitter.com/zerosum24/status/1314378520320266244