Althea Bernstein UPDATE: The United States Attorney's Office has announced that authorities "could not establish that the attack" claimed by biracial Monona teenager Althea Bernstein "had occurred." Thus, they closed the federal investigation into Bernstein's claim that four white men poured a flammable liquid on her and lit it at an intersection near State Street last June, burning her face.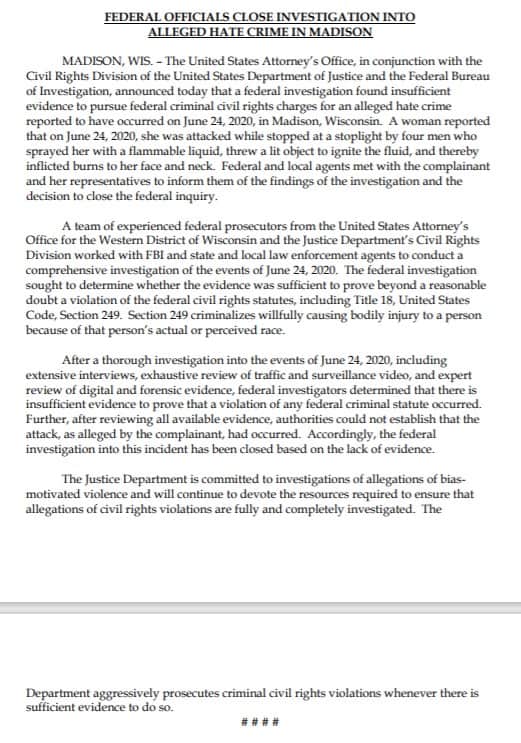 The day before the release, Wisconsin Right Now wrote about 10 lingering questions the case posed.
The alleged attack received national attention; the Madison mayor had called it a "horrifying and absolutely unacceptable crime that I will not tolerate in Madison." However, authorities, including Madison police, now say they can't find any evidence. It took Bernstein 17 hours to report the incident to police; a riot was going on at the time, including an arson at a government building.
"After a thorough investigation into the events of June 24, 2020, including extensive interviews, exhaustive review of traffic and surveillance video, and expert review of digital and forensic evidence, federal investigators determined that there is insufficient evidence to prove that a violation of any federal criminal statute occurred," the federal press release said. You can read it here.
"Further, after reviewing all available evidence, authorities could not establish that the attack, as alleged by the complainant, had occurred. Accordingly, the federal investigation into this incident has been closed based on the lack of evidence."
Police released a video timeline, which you can see here. Read the voluminous case documents here.
Acting Chief Victor Wahl, of the Madison PD, released a similar statement, announcing that it was closing the Bernstein investigation "after an exhaustive probe." Wahl wrote: "Detectives were unable to corroborate or locate evidence consistent with what was reported. The Madison Police Department dedicated significant resources to this case. The investigation was led by the MPD Violent Crime Unit, with support from the Forensic Services Unit and Central District. Detectives conducted numerous interviews, reviewed extensive video, and analyzed physical/digital evidence during the course of the investigation. MPD was assisted in these efforts by the Federal Bureau of Investigation (FBI) and the Wisconsin Division of Criminal Investigation (DCI)."
Police described Bernstein, who retained a criminal defense attorney early on in the investigation, as "cooperative with investigators." Police released the reports detailing the investigation because the case was so high profile.
Police also released a statement from Bernstein's family, who wrote, "Althea Bernstein and her family appreciate the detailed investigative efforts by all involved in this case. Althea's injuries are healing and the support of our
community has been invaluable in that regard. We continue to maintain our family privacy and will not be granting interviews at this time."

The federal decision was made in conjunction with the Civil Rights Division of the United States Department of Justice and the Federal Bureau of Investigation. The US Attorney announced on Oct. 2 that a federal investigation "found insufficient evidence to pursue federal criminal civil rights charges for an alleged hate crime reported to have occurred on June 24, 2020, in Madison, Wisconsin."
The press release says that Bernstein reported that, on June 24, 2020, "she was attacked while stopped at a stoplight by four men who sprayed her with a flammable liquid, threw a lit object to ignite the fluid, and thereby inflicted burns to her face and neck. Federal and local agents met with the complainant and her representatives to inform them of the findings of the investigation and the decision to close the federal inquiry."
According to the release, a team of experienced prosecutors, the FBI, and state and local law enforcement agents all investigation Bernstein's claims.
In a statement at the time, Madison Mayor Satya Rhodes-Conway said that "this is a horrifying and absolutely unacceptable crime that I will not tolerate in Madison. While we are still learning more about the details, current information suggests this may have been a premeditated crime targeted toward people of color, which makes the incident even more disturbing."
In June, the 18-year-old Monona teenager, claimed that four white men called her a racial slur and tossed a liquid on her, throwing a lighter or match on her and burning her face. A riot was going on around the same time in which people were trying to set the <a href="https://madison.com/wsj/news/local/crime-and-courts/madison-police-arrest-26-year-old-man-in-connection-with-arson-of-city-county-building/article_be383f8e-2c05-5c8f-b05b-cb9aeb1844b0.html" target="_blank" rel="noopener noreferrer">Madison City-County building on fire.