He was living the American dream as a budding entrepreneur.
Purcell Pearson, by all accounts, was a success story. He was a 2020 graduate of the University of Wisconsin-Whitewater, where he was the Student Council and Alpha Phi Alpha chapter presidents. He was living the American dream as a budding entrepreneur, starting a line of skincare products in Milwaukee.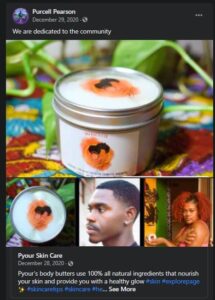 That all changes when someone took his life in a shooting in broad daylight on Wisconsin Avenue.
"Our hearts are broken! We loss our 22-year-old nephew, Purcell, to senseless street violence in Milwaukee, yesterday!" Milwaukee City Attorney Tearman Spencer wrote on Facebook.
"He was so eager to learn and achieve: Most importantly, a son of Our God, a dutiful son, brother, cousin and friend! I enjoyed teaching him, Cornel, Monae basketball in the driveway! He was the littlest back then, but was the biggest in spirit and eagerness to play… his famous words to me…'pass me the ball, pass me the ball' and I would, and then he'd pass it right back. That was the kind of kid he was. Very giving of himself. A beautifully spirited, loving and gentle young man."
His cousin Chantel Edwards wrote on Facebook, "This summer he was focused on getting his own business off the ground. Talk about such passion and ambition at 22 years old."
We've compiled a list of facts about Purcell Pearson's death in an effort to try to help bring his killer or killers to justice.
---
1. Police Say 'Suspects in a Vehicle Fired Shots'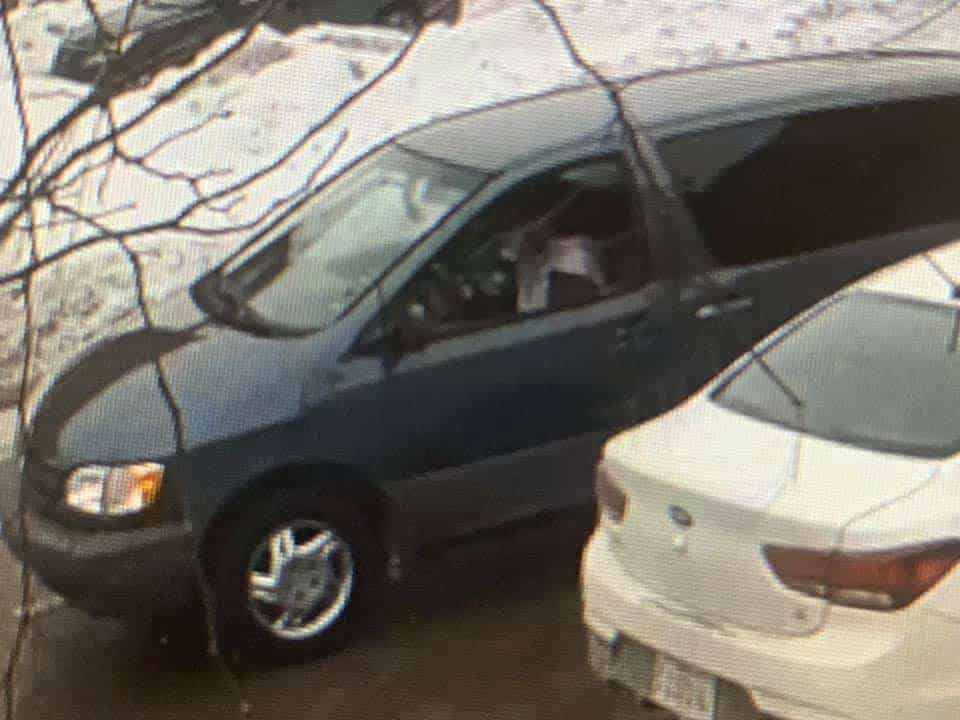 Police have released very few details, but they did say the suspects fired from a vehicle. Here's what they wrote:
Milwaukee Police are investigating a homicide that occurred on Saturday, February 6, 2021, at approximately 12:23p.m., on the 2200 block of W. Wisconsin Avenue. Suspects in a vehicle fired shots at the victim subsequently striking him. The victim, a 22-year-old man from Milwaukee, sustained fatal gunshot injuries. The circumstances leading up to the shooting are under investigation. Milwaukee Police continue to seek unknown suspects. Anyone with any information is asked to contact Milwaukee Police at (414) 935-7360 or Crime Stoppers at (414) 224-TIPS or P3 Tips App.
(In the same news release, police described how a 16-year-old was shot and killed on Wells Street that same day. That death has gotten almost no news attention.)
Marquette police released this statement, "A non-Marquette affiliated victim was fatally shot in the 2200 block of W. Wisconsin Ave. The Milwaukee Police Department is investigating. No suspect information is available at this time. Vehicle Description: Grey minivan with no front license plate, last seen heading northbound on 22nd Street." However, surveillance video images show the vehicle was darker in color, perhaps blue.
---
2. Surveillance Video Shows Pearson Clinging to the Suspect Vehicle Right Before the Shooting
Surveillance video obtained by CBS58 shows Pearson clinging to the suspect vehicle as it careens over a snowy median right before the shooting. You can watch the video here.
---
3. Family Members Say the Shooting Occurred During a Robbery of Designer Glasses Purcell Pearson Was Selling on Facebook; We've Located Two Such Advertisements by Pearson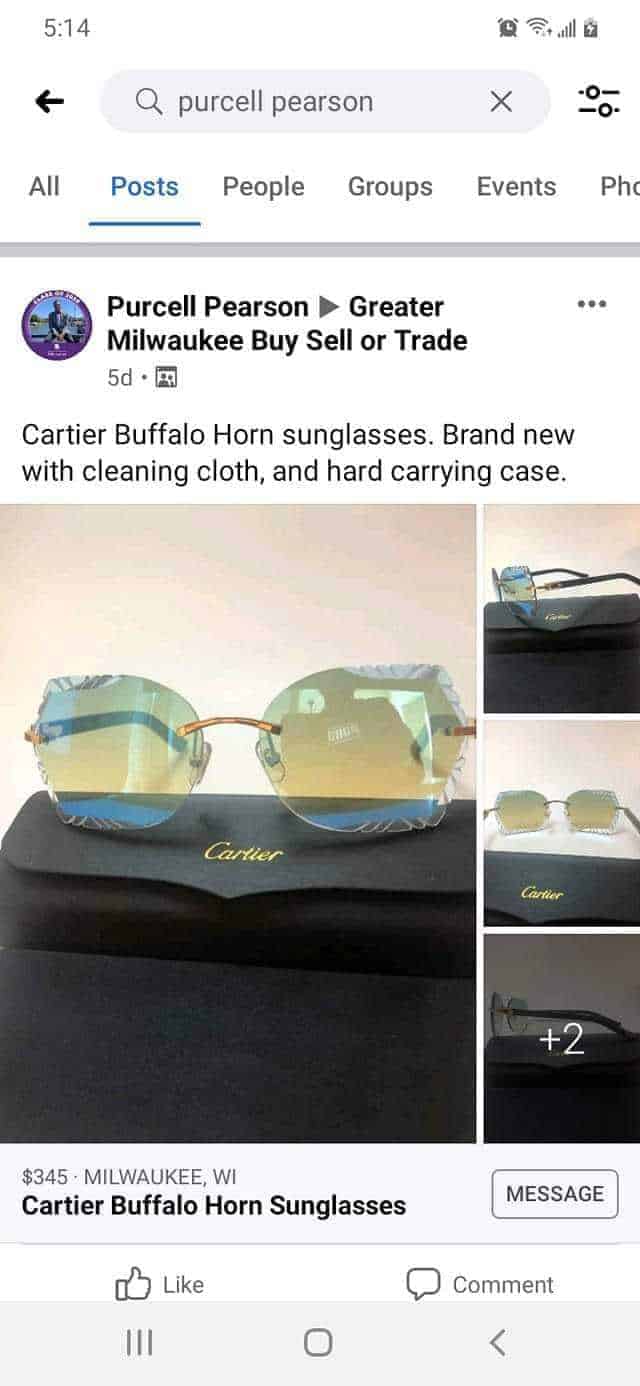 According to WISN-TV, Purcell Pearson's brother "said the shooting occurring during a robbery for a pair of $1,100 Cartier glasses."
We've located a Facebook post Purcell Pearson made three days before the murder advertising expensive Cartier glasses.
The Facebook post, listed on Greater Milwaukee Buy, Sell and Trade, advertised "Cartier Bufflao Horn sunglasses" for $345. "Cartier Buffalo Horn sunglasses. Brand new with cleaning cloth, and hard carrying case," Pearson wrote.
We also found that, on Feb. 3, Purcell advertised a second pair of different Cartier sunglasses for $380 on a South Milwaukee Buy, Sell, and Trade site.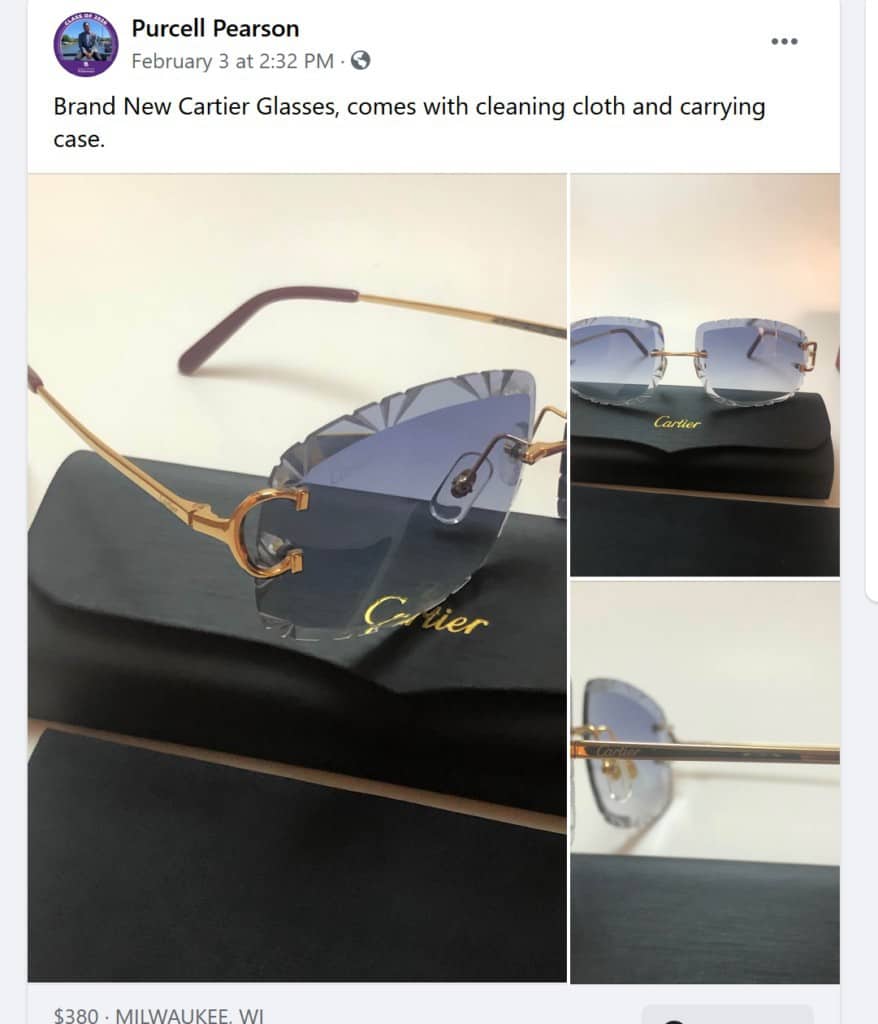 He also used buy, sell & trade pages on Facebook to sell his line of skincare products.
Police have not provided any indication of a motive.