U.S. Rep. Mark Pocan, a Democrat from Wisconsin, wrote on Twitter: "President Trump held a superspreader rally in Wisconsin the day after we set a record for the most COVID cases in a day—3,861. His rally had no mask or social distancing requirements."
He shared this Milwaukee Journal Sentinel tweet with photo. The newspaper's tweet said "many" were without masks and Pocan's tweet said the rally had "no mask or social distancing requirements."
We were at this rally. We personally witnessed a member of security ordering people to wear masks or they would have to leave the event. We also took many photos that show that the vast majority of people were wearing masks as the rally got underway. In addition, Trump volunteers were handing out free MAGA masks. (We didn't wear masks in order to take a couple photos, but put on our masks when we ventured into the crowd. We were at the Trump event to cover it as media) . Our temperature was also checked before we went into the rally, which was largely outdoors.
President Trump held a superspreader rally in Wisconsin the day after we set a record for the most COVID cases in a day—3,861.

His rally had no mask or social distancing requirements. https://t.co/Lsn11eqqEW

— Rep. Mark Pocan (@repmarkpocan) October 18, 2020
On Twitter, people falsely claimed that only 10% of people were wearing masks.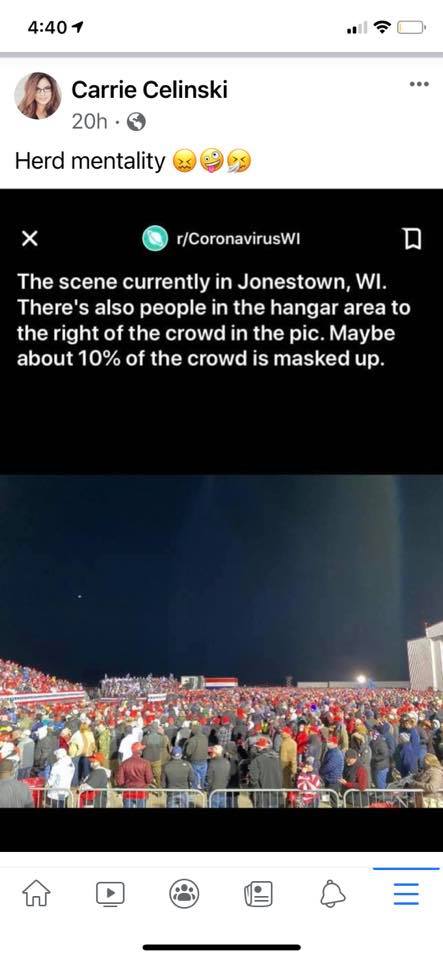 The Milwaukee Journal Sentinel story stated, "Plenty wore masks, especially those sitting near the president and within view of cameras filming the speech. But many others did not appear worried about the rally spreading the virus and didn't wear masks."
We think photos speak 1,000 words, so we will leave you with this series of photos, and you can decide for yourselves whether most people were wearing masks at the Trump rally.