The Wauwatosa police union is slamming Wauwatosa Committee Chairperson John Larry for what it calls his "unprofessional and offensive behavior" after posts he made on Facebook disparaging Wauwatosa police about the Mayfair Mall mass shooting.
Following the mass shooting that left eight people injured, Larry shared a post on Facebook that stated, "All that Money Tosa spends on shutting down protests, and they can't catch an active shooter…" the union said. We checked, and the post is still available on Larry's Facebook page. He also wrote additional disparaging posts about Wauwatosa police and the mass shooting.
Larry, the Wauwatosa police and inequities committee chair, was previously captured on body camera threatening to knock out and slap "the sh*t out of" a police lieutenant this August, according to the video and a citation that Wisconsin Right Now obtained via open records laws.
"The WPOA finds this post to be disgusting and offensive. Not only to the officers that rushed in to the scene, but also to the victims, witnesses, and citizens of this community. We would expect more from an appointed chairperson," wrote the union. "However, we are not surprised by Larry's actions In addition, we are not surprised that the Common Council – specifically the Government Affairs Committee and Chairperson Matt Stippich, continue to ignore Larry's behavior, and his insulting and offensive statements."
The Wauwatosa Peace Officers Association "has made repeated complaints to the Wauwatosa Common Council regarding the continued offensive, inappropriate, and non-inclusive behaviors and statements of Chairperson John Larry. Yet they continue to ignore us. John Larry is the appointed Chairperson of the Ad-Hoc Committee to address Policing and Systemic Inequities," the union president, John Milotzky, wrote in the news release.
"The WPOA cannot ignore it. And we apologize to the victims and everyone impacted yesterday for the thoughtless and offensive social media post made by one of our City's chairpersons. And we also apologize that your elected officials fail to address these issues," the police wrote.
Larry didn't let up on his criticism of Wauwatosa police. "When the police chief, who boasts and brags about his 30 plus years record, puts out erroneous information regarding a mass shooter but could send police officers to folks home to issue citations for protests, it's definitely time for new leadership!!!!! Something fishy is going on!!!!! Make it make sense!!!!!" he wrote on Facebook."
Police Chief Barry Weber said in a news conference that police weren't given a suspect description when they arrived at the mall. They were there in 30 seconds, giving first aid to victims and securing the scene. Although he initially said the suspect was a white male in his 20s and 30s, later investigation, including review of video, helped police determine the suspect was a 15 year old Hispanic Milwaukee resident. It took police only until Saturday night to have the suspect in custody (the shooting occurred on Friday afternoon). Read the chief's press release on the shooting arrest here.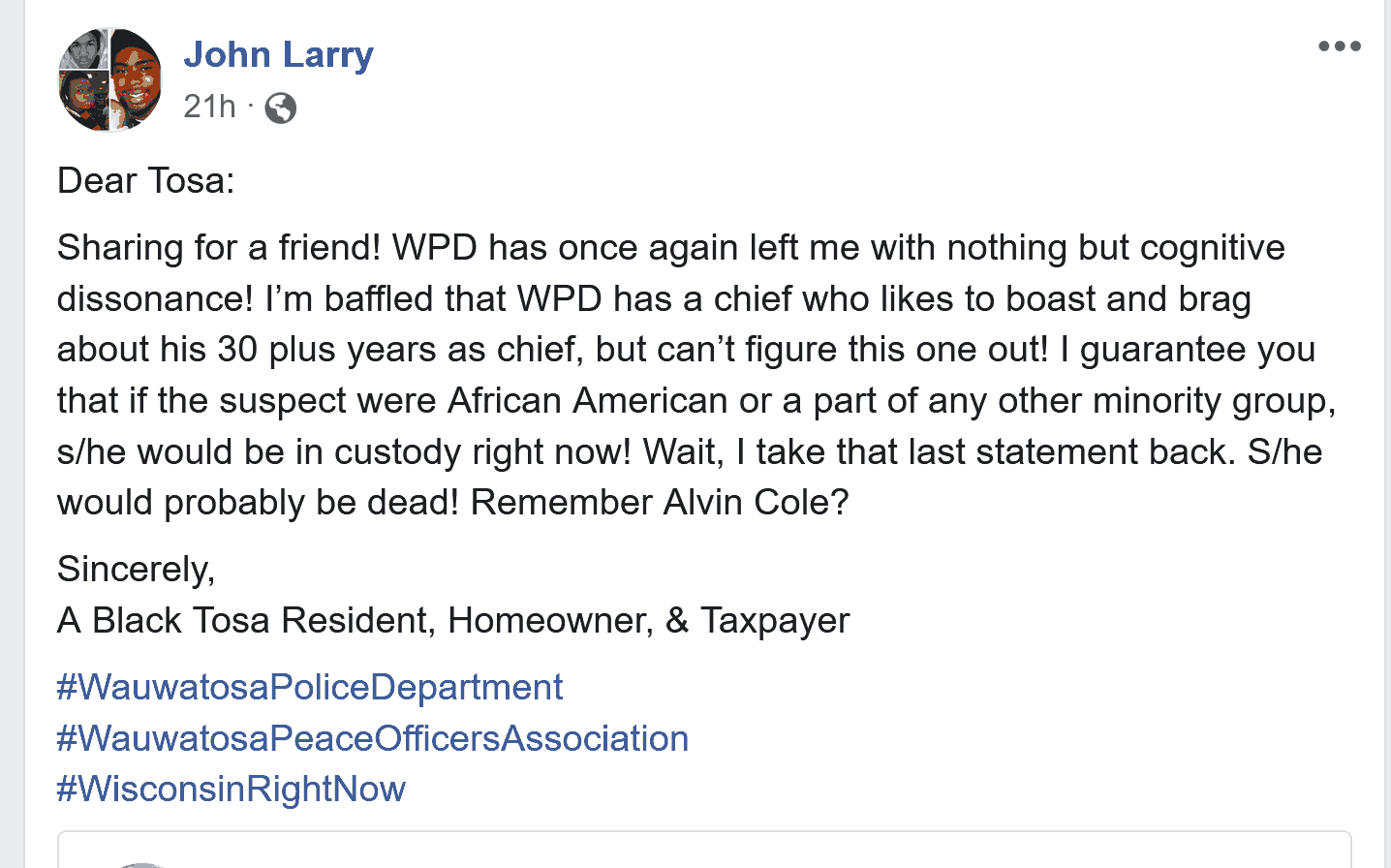 Larry also wrote: "Sharing for a friend! WPD has once again left me with nothing but cognitive dissonance! I'm baffled that WPD has a chief who likes to boast and brag about his 30 plus years as chief, but can't figure this one out! I guarantee you that if the suspect were African American or a part of any other minority group, s/he would be in custody right now! Wait, I take that last statement back. S/he would probably be dead! Remember Alvin Cole?"
However, as noted, Chief Weber later revealed that, in fact, the suspect was Hispanic. In addition, Alvin Cole, 17, brought a loaded gun to the same mall. He then fled officers and discharged the weapon before a police officer shot and killed him in the mall parking lot, according to the District Attorney, who cleared the officer of any legal wrongdoing in that shooting.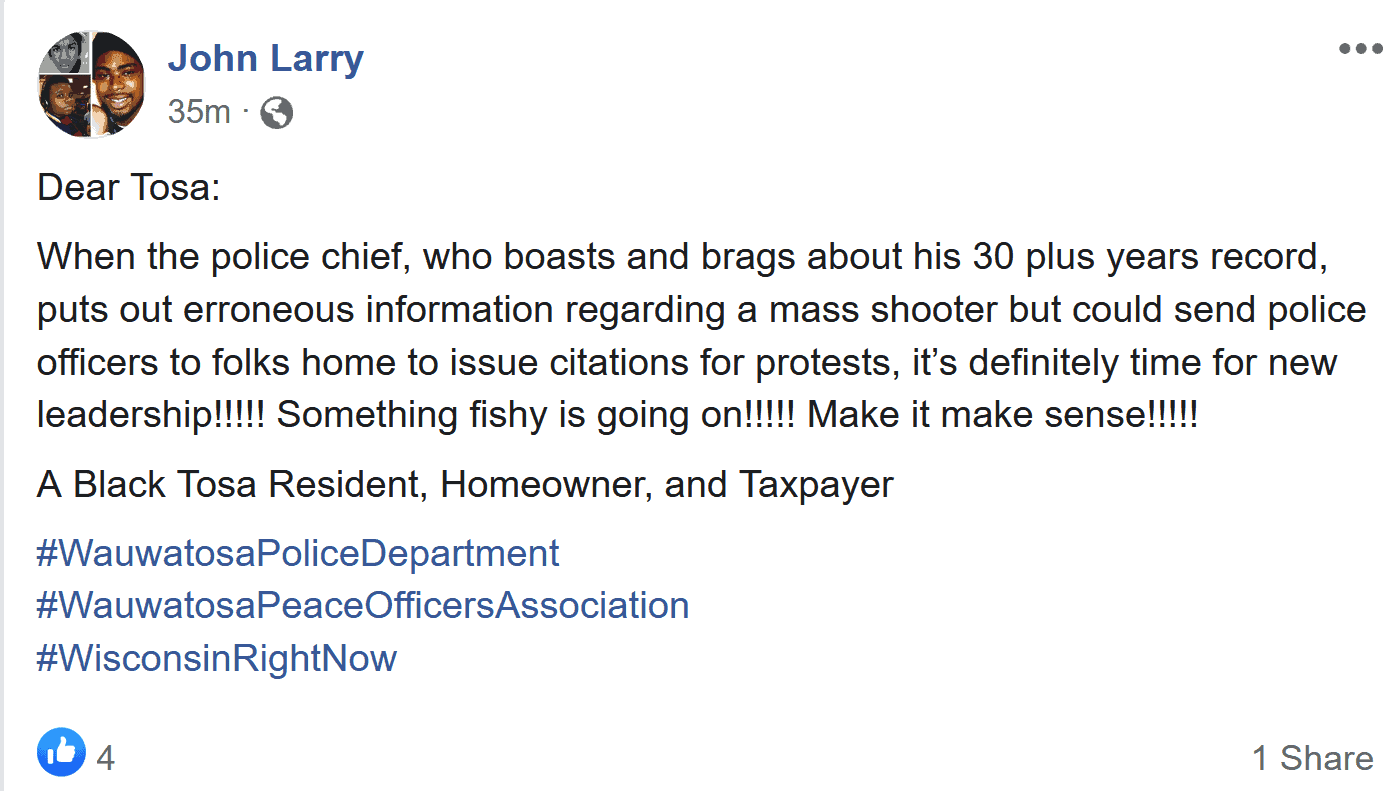 Larry also railed, "The Wauwatosa Police Department spent time and resources to identify peaceful protestors and send them $1,321 tickets in the mail, but still don't have the identity of a mass shooter going on over a day? Make it make sense."
A few days before the mass shooting, he wrote, "I, John Larry, a Black Tosa Resident, Homeowner, & Taxpayer, reside in a city, where an officer can kill three black and brown people, under the supervision of a white Tosa Proud Boy, be cleared by a white district attorney, not held accountable by an all white police and fire commission, and be paid by a white Proud Boy mayor, and an all white common council, to go work somewhere else, with the potential to kill again, and still receive a pension! Just an FYI." All three of those shootings were ruled justified self defense by the DA. All of the people killed were armed or reaching for a gun.
The members of the WPOA, along with dozens of other officers from surrounding agencies did not hesitate to enter the mall to try to locate the shooter and help the victims," the union wrote. "An event like this deeply affects the victims, their family members, and the patrons and employees that were present. This is a life-changing event for some."
The Wauwatosa Police Union previously demanded "greater accountability" from the Common Council and its Government Affairs Committee, saying the city has filed to address the "violent and unethical behavior" of Ad Hoc Committee Chairperson John Larry, who was recorded on police body camera video threatening a police lieutenant. For weeks, the police union has tried to get aldermen to do something about Larry's continued leadership on an important committee formed to consider reforms of the Police Department.
Larry has previously made what the union calls discriminatory references to the city of "White-watosa" and the "White-watosa Police," which "we find to be extremely offense and divisive."
The government ad hoc committee Larry chairs – which is formally called the "Policing & Systemic Inequities" – is charged with making recommendations on changes in police and Common Council training and procedures on everything from warrants to racial bias issues to traffic stops.
The citation alleges that Larry "approached officers and made attempts to incite the officers. (Larry) made threats to harm Lt. Farina while on scene. (Larry) stated he would 'knock you the f*** out' and "I'll slap the sh*t out of you.' (Larry) also antagonized officers, stating, 'Grab me, let's see who wins' and 'I wish any of them would try it with me.'"
A previous release, written by WPOA President John Milotzky, says the union first brought the matter to city officials requesting action on Sep. 25 and "have followed up with numerous communications. All of which have been ignored, just as the body cam footage of Chairperson Larry has been ignored. These are serious matters that will not simply go away because you choose to ignore them."
In the press release dated Oct. 26, the union stated that the "inaction of the Common Council, the Government Affairs Committee, and the Ad Hoc Committee" causes the union officials to believe that "many of the current council and committee members" are not willing to accept accountability themselves, even as they demand it from police personnel.
On Aug. 14, 2020, Ad Hoc Chairperson Larry "threatened a Wauwatosa police lieutenant as recorded by police body camera – the very same type of body camera that this very committee has demanded for greater police accountability," wrote the Wauwatosa Police Union.
City employees and citizens deserve accountability and integrity, says the press release, and "choosing to continue to ignore this matter for nearly a month only undermines any attempt toward substantial cooperation."
It's the Government Affairs Committee that chose Larry.
The WPOA is requesting the Common Council:
Establish a means for complaints to be filed against Council members.
Provide a method to remove council members.
Promote greater accountability among council members.
The Wauwatosa Police Union said on Oct. 1 and again on Oct. 5 that the city's "failure to address our growing concerns continue to promote a declining work environment for our membership."
When Wisconsin Right Now reached out for comment from Larry previously, he responded:
Good Afternoon Mr. Piwowarczyk, I think you may have the wrong Mr. Larry. I did not receive an arrest citation last month, or any month since my nearly 40 years of being here on earth. Thank you for your interest in my life though. Here is a most recent article that mentions me a number of times. Make sure if you come for me, that you come ready. Please tell Jessica I said hi.
Disclosure: Jessica McBride, a contributor at Wisconsin Right Now, is the niece of Wauwatosa Mayor Dennis McBride. Jim Piwowarczyk, the owner of Wisconsin Right Now, is the author of this story.