Wisconsin Right Now's Jim Piwowarczyk found missing evidence – two shell casings – just before 7 p.m. Aug. 29 at the first Kyle Rittenhouse shooting scene. After Piwowarczyk observed the casings lying under a silver Chevrolet car adjacent to the spot where Joseph Rosenbaum died, we photographed the shells, called the Kenosha police, and stood by until two detectives came to the scene and collected the casings.
The casings appeared to be .223 shells, which would be consistent with the gun Rittenhouse carried that night. The detectives said the evidence was important because they were the last casings unaccounted for from the scene. The scene was no longer cordoned off with crime scene tape.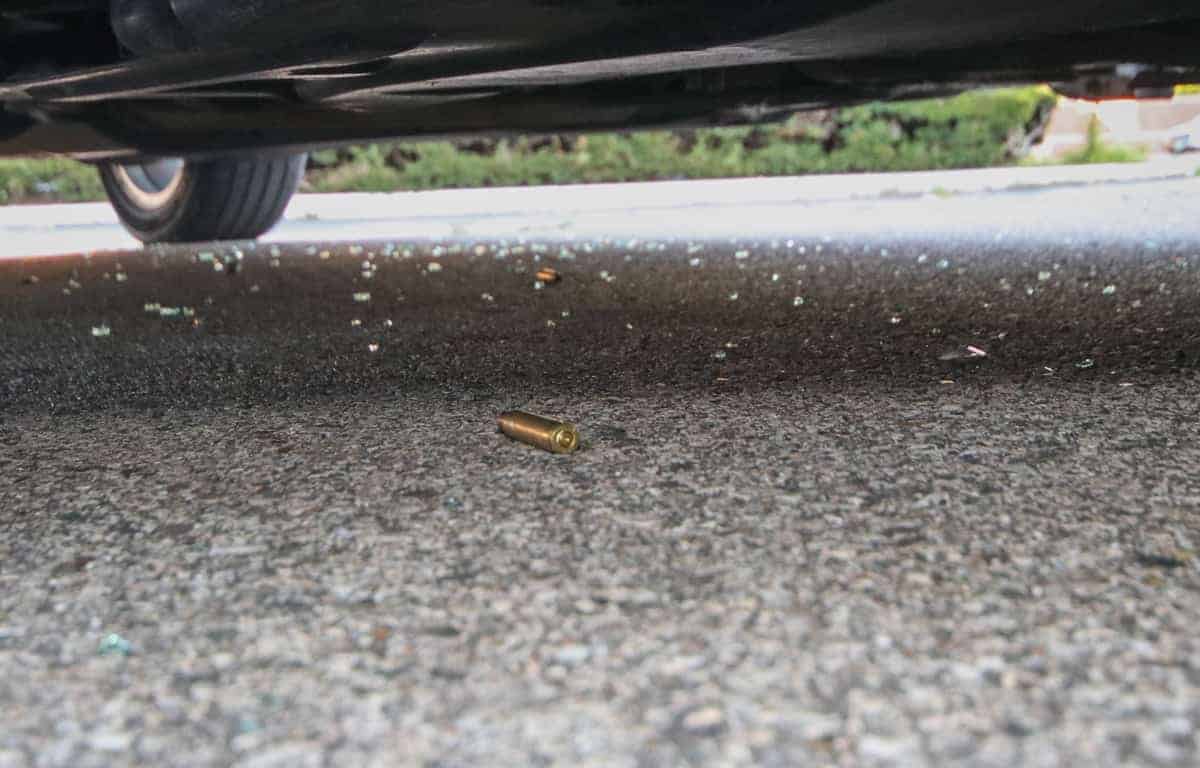 Piwowarczyk is a former police officer and crime scene evidence technician.
Piwowarczyk and Milwaukee area journalist Jessica McBride were in Kenosha to document the damage at the scene and to speak to business owners about the fires and to interview eyewitnesses about the shootings. Their goal was to shed additional light on what has happened in Kenosha. It was their fourth day in the city, and they have streamed a number of live streams from the scene, including on Tuesday night as businesses burned to the ground.
As part of this effort, they went to the gas station parking lot where Rosenbaum was shot and killed by Rittenhouse, 17. The Kenosha County District Attorney previously charged Rittenhouse with homicide; Rittenhouse's lawyer says Rittenhouse acted in self defense when attacked by a "vicious" "mob."
https://www.facebook.com/jessica.mcbride100/videos/849158188822419/
Piwowarczyk went to the scene to look for additional evidence, along with any evidence that a Molotov cocktail had been thrown at Rittenhouse as some people claim video may show. In so doing, he discovered two shell casings were lying under the car, which was about six feet from the spot where Rosenbaum died, as marked by a makeshift memorial of liquor bottles and flowers.
We photographed the shell casings from a distance but didn't touch them. Piwowarczyk called Kenosha police, and the detectives came and collected them.
---
What the Criminal Complaint Alleges
Videos prove Kyle Rittenhouse was being chased and about to be attacked by rioters when he shot the perpetrator in self defense pic.twitter.com/rRDf6pl2gX

— Mark Dice (@MarkDice) August 26, 2020
Here's what the criminal complaint alleges happened at the spot where Rosenbaum died.
An 8 p.m. curfew had been imposed east of I-94 in Kenosha County due to civil unrest. On August 25th at approximately 11:45 pm a shooting occurred at Car Source which is located at the northwest corner of 63rd St. and Sheridan Road in the City and County of Kenosha, State of Wisconsin.
Read the criminal complaint here.
The man who was shot at this location was identified as Joseph Rosenbaum. Rosenbaum was transported to a local hospital where a doctor declared him to be deceased on August 26, 2020 at 12:47 am. In the course of investigating this incident, law enforcement reviewed and shared with your complainant multiple videos that appeared to be recorded on cell phones. In the first video, a male who was later identified to be Kyle H. Rittenhouse, DOB: 01/03/03 (hereinafter "the defendant"), is running southwest across the eastern portion of the Car Source parking lot.

The defendant is a resident of Antioch, IL. The defendant can clearly be seen holding a long gun, which was later recovered by law enforcement and identified as a Smith & Wesson AR-15 style .223 rifle. The recovered magazine for this rifle holds 30 rounds of ammunition.

Following the defendant is Rosenbaum and trailing behind the defendant and Rosenbaum is a male who was later identified as Richard McGinnis, a reporter. The video shows that as they cross the parking lot, Rosenbaum appears to throw an object at the defendant. The object does not hit the defendant and a second video shows, based on where the object landed, that it was a plastic bag. Rosenbaum appears to be unarmed for the duration of this video.

A review of the second video shows that the defendant and Rosenbaum continue to move across the parking lot and approach the front of a black car parked in the lot. A loud bang is heard on the video, then a male shouts, "F*ck you!", then Rosenbaum appears to continue to approach the defendant and gets in near proximity to the defendant when 4 more loud bangs are heard. Rosenbaum then falls to the ground. The defendant then circles behind the black car and approaches Rosenbaum. Rosenbaum remains on the ground.

McGinnis also approaches, removes his shirt, and attempts to render aid to Rosenbaum. The defendant appears to get on his cell phone and place a call. Another male approaches, and the defendant turns and begins to run away from the scene. As the defendant is running away, he can be heard saying on the phone, "I just killed somebody." Detective Cepress interviewed McGinnis and indicates the following: Before the shooting, McGinnis was interviewing the defendant. The defendant told McGinnis that he was a trained medic.

McGinnis stated that he (McGinnis) has handled many ARs and that the defendant was not handling the weapon very well. McGinnis said that as they were walking south another armed male who appeared to be in his 30s joined them and said he was there to protect the defendant. McGinnis stated that before the defendant reached the parking lot and ran across it, the defendant had moved from the middle of Sheridan Road to the sidewalk and that is when McGinnis saw a male (Rosenbaum) initially try to engage the defendant. McGinnis stated that as the defendant was walking Rosenbaum was trying to get closer to the defendant. When Rosenbaum advanced, the defendant did a "juke" move and started running.

McGinnis stated that there were other people that were moving very quickly. McGinnis stated that they were moving towards the defendant. McGinnis said that according to what he saw the defendant was trying to evade these individuals. McGinnis described the point where the defendant had reached the car. McGinnis described that the defendant had the gun in a low ready position. Meaning that he had the gun raised but pointed downward. The butt of the gun would have been at an angle downwards from the shoulder. McGinnis stated that the defendant brought the gun up. McGinnis stated that he stepped back and he thinks the defendant fired 3 rounds in rapid succession.

McGinnis said when the first round went off, he thought it hit the pavement. McGinnis felt something on his leg and his first thought was wondering whether he had gotten shot. McGinnis was behind and slightly to the right of Rosenbaum, in the line of fire, when the defendant shot. McGinnis stated that the first round went into the ground and when the second shot went off, the defendant actually had the gun aimed at Rosenbaum. McGinnis stated he did not hear the two exchange any words.

McGinnis said that the unarmed guy (Rosenbaum) was trying to get the defendant