"Bullets careened through the kitchen window and struck him in the eye." 
Roniel Sylvester Jr. was "literally a person you would be proud to say he was from Milwaukee," his father says. "This kid, of all the kids we know, he was the last person we thought gun violence would happen to." Why, he wonders then, did the news media almost completely ignore his 26-year-old son's senseless, random August murder?
Sylvester Jr. was shot while standing in his grandfather's kitchen after reckless drivers sprayed the house with gunfire. Why did it take the area's alderman, Khalif Rainey, more than three months to put out a brief news release about his death? Rainey is now trying to make it up to the grieving father at least.
In an emotional phone call with us on Nov. 23, after we reached out, the alderman acknowledged the death "fell between the cracks," which he blamed on miscommunication, but he vowed to do everything in his power to let Roniel Sylvester Sr. know his son's death mattered to Milwaukee.
"I am sad I wasn't there in the way he needed me to be," Rainey said. "It weighs on me heavily. I want him to know I care."
Roniel Sylvester Sr. wants to know why his son's death is not high profile, like the white lawyer killed on Brady Street whose death was big news. After all, Roniel Jr. was one of the city's own, a young man who, his proud and now heartbroken father says, did everything right and was doing absolutely nothing wrong when a group of men decided to end his life. The alderman concurred. Everything he's heard about Roniel Jr. matches the father's account, he says. "He was a special young man," says Rainey.
But there haven't been big news conferences from the police, either; Roniel Sr. says he's barely heard from the detective. He wonders why "dangerous" narratives like defunding the police are getting traction in Milwaukee as homicide numbers spike; he worries about declining clearance rates and people taking the law into their own hands. We didn't bring that angle up to him. He brought it up, and he says it's not a political stance.
He said he's received "no support whatsoever."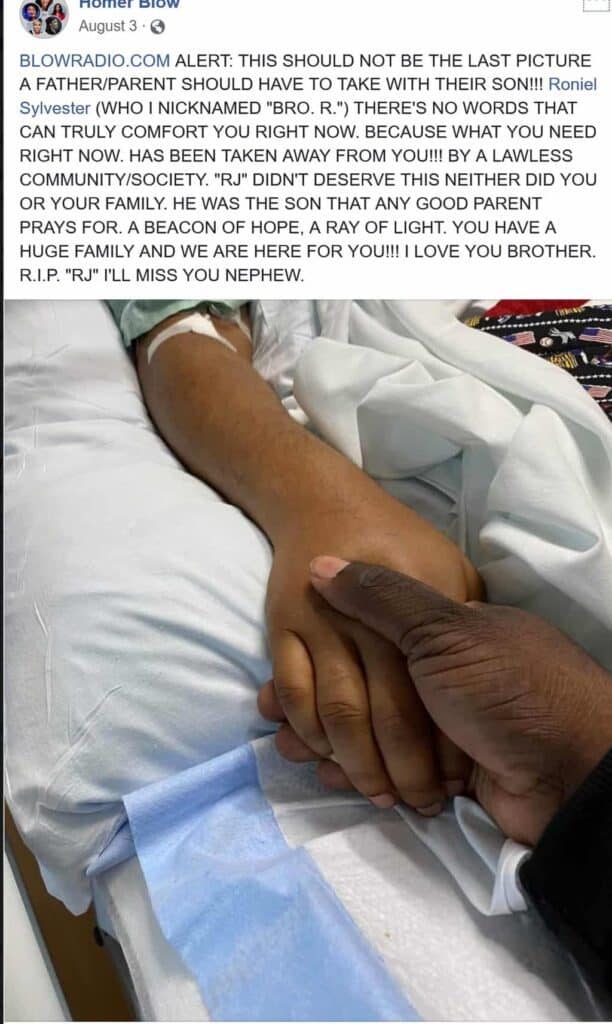 "It tore me up," the father says of the murder. "This person (Roniel Jr.) was a pillar in my life. He was one of my best friends. He was grown, but he had just hit adulthood. I was ready to see what he was going to become."
Here's the bottom line. If more people were talking about Roniel's homicide, the father thinks, there would be a better chance at catching the reckless drivers who opened fire indiscriminately on Roniel's grandparents' house on Aug. 1, senselessly killing Roniel Jr., who was just standing in the kitchen behind his grandpa when a bullet struck him in the eye. Roniel Jr. graduated from high school, and then college, got a finance job in Chicago, was beloved by co-workers, had zero criminal record, and was studiously saving money.
"It just hurts so bad," says the father. "We've been in the city all my life."
The death bears some resemblance to the horrific slaying of another innocent, 5-year-old Laylah Petersen, whose murder, in contrast, garnered massive news coverage at the time, after she was murdered by a bullet shot into her grandparents' house. In this case, if you Google the name "Roniel Sylvester," you come up with only a reprint of the alderman's belated, short press release, his obituary, social media accounts, and a GoFundMe account that has raised $17,000 despite scant media coverage, a testament to Roniel's impact on people. One person who donated called Roniel the "humblest young man… I have every met."
The Milwaukee Journal Sentinel gave Roniel's death a mere six paragraphs of coverage in a story that didn't even name him and did nothing at all to humanize him. He's named in a line in the newspaper's homicide database. Sixteen people were shot the weekend Roniel Jr. died, the story says. He got another six paragraphs that regurgitated Rainey's press release in November but also did nothing to humanize him. Urban Milwaukee reprinted Rainey's press release. No other coverage comes up and the father says there was almost none, just the briefest, most dehumanizing blips of coverage that grew his sense that no one in the news media really cared. This hurts him. Worse, it makes it less likely that the killers will be brought to justice.
Roniel Lashawn Sylvester Jr. deserved better. And if a community can't bring itself to care about the death of someone like him, what does that say about all of us?
---
A Random Act of Violence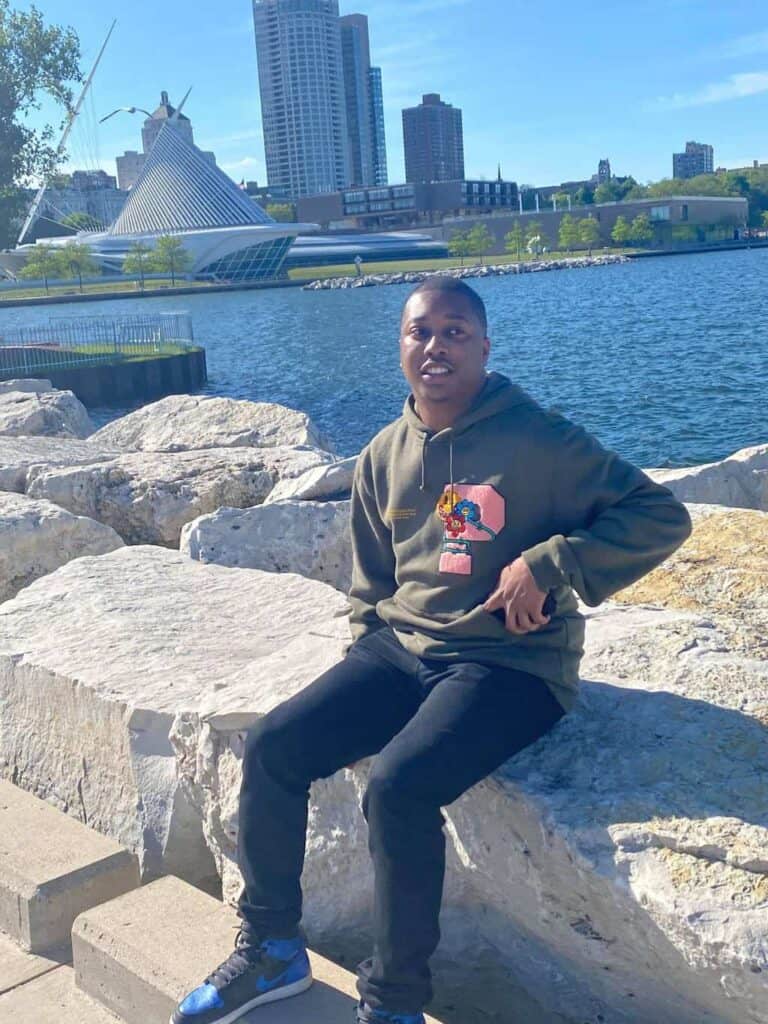 The homicide happened in the 3400 block of N. 47th St.
"Roniel Sylvester tragically lost his first born son, RJ, in a random act of violence. RJ was an innocent bystander when struck by a bullet that ultimately ended his life," the GoFundMe page reads.
According to Sylvester's dad, Roniel was staying at his grandparents' house on Milwaukee's north side, when the group of young men started reckless driving in his street and yard. The elderly grandfather went outside to yell at them to stop; they responded by shooting up the house. Roniel Jr., who was awakened by his grandmother to check on the grandfather, was simply standing behind his grandfather in the family's kitchen, when one of the bullets careened through the kitchen window and struck him. He died in the hospital two days later.
The killer(s) remain at large.
Roniel Sylves