AG Josh Kaul's crime lab is worse on many key measurements than his predecessor, yet the media aren't holding him accountable. That's a double standard.

Wisconsin Attorney General Josh Kaul has failed on public safety, with crime lab delays worse in key areas – like guns and DNA – than those under former Republican AG Brad Schimel.
Even though Schimel's crime lab was more productive and effective, he was hammered relentlessly by Kaul and the news media. Yet Kaul's worse record isn't getting much scrutiny even as a Republican AG primary gears up.
At a time of soaring crime rates, Kaul's crime lab is taking in far fewer cases (a trend that started BEFORE COVID-19), but it's also taking longer to get police and prosecutors key evidence they need to get criminals off the streets, a review of his own data shows. Kaul has offered excuse after excuse for this fact, but the crime lab's role in public safety has unquestionably diminished under his leadership:

Kaul has gutted the Department of Justice's public safety mission, DOJ data shows. Under his leadership, the Division of Forensic Sciences, which houses the state crime labs, handled almost 30% fewer cases than during Schimel's last year, a trend that took root during his first year in office, 2019.
The data comes from Kaul's 2020 report, which was released in April to a flurry of generally positive news stories, many of which focused on the pandemic or comparing Kaul's 2020 numbers to his numbers for 2019, his first year in office. He showed incremental progress in some areas when compared to himself.
What we did but the media largely failed to do was take a longer look back and compare Kaul's first two years in office to the crime lab under Schimel. He doesn't fare well.
The AG has not yet released numbers for 2021. Kaul criticized Schimel relentlessly during his campaign about crime lab backlogs. Yet Kaul's record is worse.
In 2018, Kaul slammed Schimel over Wisconsin crime lab backlogs, saying, "I'm glad to see that, in an election year, Brad Schimel has finally found the motivation to take action, but we need an Attorney General who is consistently committed to ensuring that justice isn't delayed for victims."
That's true, then, for Kaul as well. But his numbers are worse in many areas, yet his media coverage is better.
Here's how the media covered Schimel:
Now contrast the glowing spin given to Kaul: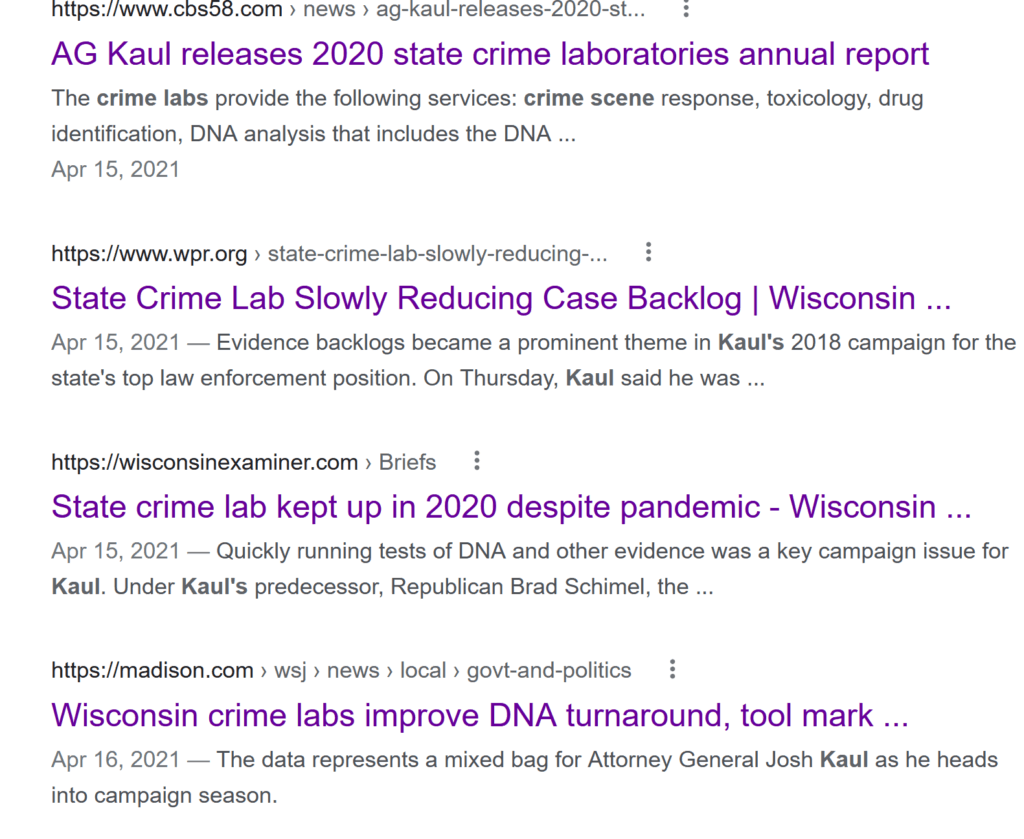 However, when we dug into Kaul's own numbers, we found a very different story from the media coverage. When you compare Kaul to Schimel, Kaul has made the crime lab worse in many key areas.
The negative trends exist even though Kaul admitted in his 2020 report that "the legislature made a significant investment in the crime labs in the last state budget."
An example: crime scene responses. It's taking longer to finalize reports even though Kaul's office is handling fewer cases, and that trend started before the pandemic.
Another example? DNA analysis is taking longer than it did under Schimel – also a trend that started before COVID-19 – even though Kaul's office is handling 50% fewer cases, in part because Schimel completed the untested rape kit backlog before he left office.
Thanks to @GovEvers and legislators for touring the State Crime Laboratory at Wausau today to see the how staff analyze criminal evidence. pic.twitter.com/A8lVgnJioJ

— Attorney General Josh Kaul (@WisDOJ) April 1, 2019
From Schimel's last year through 2020, Kaul's crime lab handled 28% fewer controlled substance cases – even as overdoses have exploded statewide. Yet, he's taking longer now to process them.
On firearms, Kaul's crime lab is taking, on average, more than a month longer to process gun cases than Schimel's crime lab at a time that firearm violence is a growing concern. In this area, the number of cases is roughly similar. His handling of firearms worsened in 2020 when compared to his first year in office.
The office so dropped the ball on toxicology testing that it had to farm it out to the Wisconsin State Laboratory of Hygiene, according to a January 2021 letter from Kaul's DOJ obtained by Wisconsin Right Now.
The letter blames this on "current limitations in personnel resources" and says that the crime lab may be transferring evidence to the Wisconsin State Laboratory of Hygiene "for the requested analysis based on our pending volume of cases."
In addition, in 2019, Kaul withdrew the Wisconsin crime labs from a federal ATF program called NIBIN, an automated database that looks for potential matches in fired bullet and cartridge cases. The reason given? That the office simply could not "responsibly and reasonably sustain the program."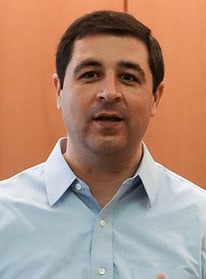 What is NIBIN? The ATF explains, "The NIBIN Program automates ballistics evaluations and provides actionable investigative leads in a timely manner. NIBIN is the only interstate automated ballistic imaging network in operation in the United Stat