The Much Better Barbershop at 6119 West Capitol Drive was buzzing with political conversation one recent day in Milwaukee. A few days before the presidential election, several Milwaukee Republican candidates showed up, hoping to make inroads with black voters.
A few themes became immediately apparent as the discussion got off the ground, around the corner from a parking lot where people were urging Milwaukeeans to early vote.
The men gathered in the barbershop on this day defied simplistic talking points. For example, several of the African-American men in the barbershop said they do not want less law enforcement, and no one advocated against it. They don't think it's a good idea to abolish or defund police. "It's a bad idea; a horrible idea," said Waymon Stewart, a plumber. "They're cutting it up now. If you cut police, it will be 10 times worse."
The men do want better trained and more sensitive police, but they worry that less law enforcement will make their neighborhoods less safe and the crime rate worse. One man expressed concern that "killers out here don't have to report," saying that probation and parole supervision in Milwaukee has gotten laxer due to COVID-19 (see our story on such supervision going virtual here.)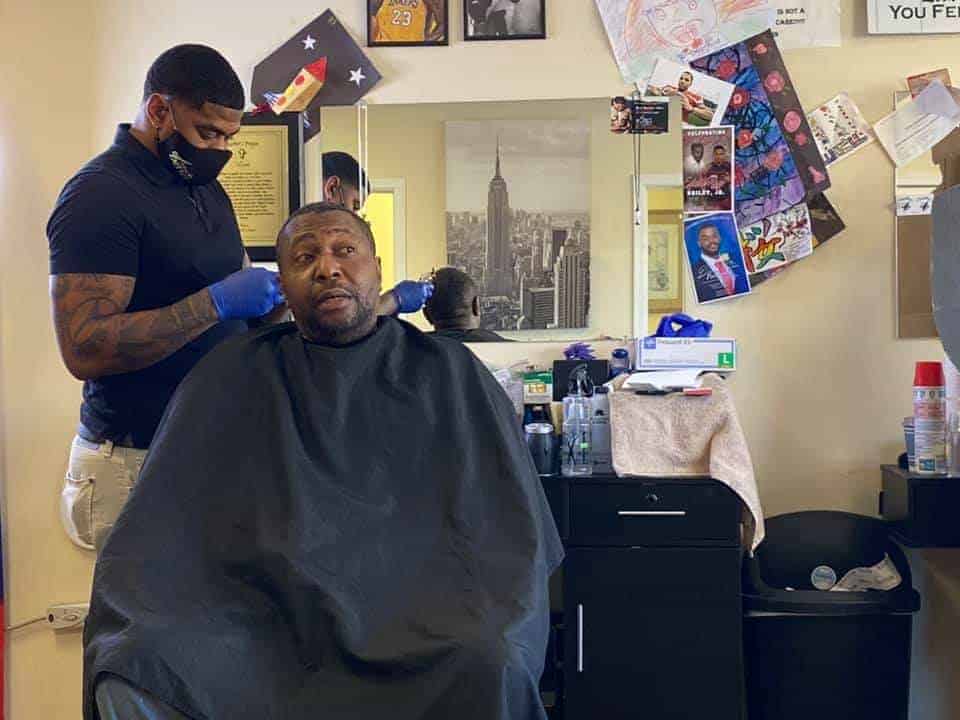 The barbershop conversation occurred amidst an election season in which the Republican Party has launched new outreach into the black community, opening an office in the heart of the inner city and fielding a slate of Republican candidates, some of them black, in districts where Democrats have gotten used to having no opposition.
The customers who came to the barbershop were far more interested in local issues than the constant political divide and debate over Joe Biden vs. Donald Trump or Republican vs. Democrat. They talked about potholes the city never fixes. They talked about soaring homicide rates. They talked a lot about reckless driving. They want the city to get tougher on enforcement of it. One customer revealed that a man had just been struck by a car around the corner and was lying in the middle of the road as he came to the barbershop; the barbershop's owner said a car recently plowed into his shop. They all have these stories. They talked about the need for more jobs in a central city they believe has been largely forgotten by local leaders.
They stressed that small black businesses, like this barbershop, need more support from the political leadership. Several of the men have criminal histories and served time; they believe society should give people a chance to rehabilitate and become productive members of society. They're not thrilled with Milwaukee's street car, The Hop, either. All politics is local, the cliche goes. Never was it more true than here.
"Who uses it? It (the streetcar) doesn't come here," said the owner, Derrick Patterson, Jr., 32, who was most concerned with society finding ways to boost small businesses trying to prosper and survive the pandemic. Patterson, who is known as Sinn Da Barber, started his business in 2013.
Orlando Owens, a Milwaukee Republican who is running for Jason Fields' old Assembly seat, focused on jobs when he stopped by to join in the conversation. He made a logical argument to the gathered men, trying to sell them on what he said was his ability to bring the inner city's concerns to Republican leaders who retain the power needed to make change. He said the "R in Republican means reform." Of the way the black community historically votes, he added, "What we've been doing isn't working." Black Milwaukeeans need leverage in Madison, he said.
"If more people get good paying jobs, the crime will address itself," said Owens, who helped found a program called The Joseph Project that helps get people recently released from prison get jobs.
Stewart told Owens, "You've got my ear."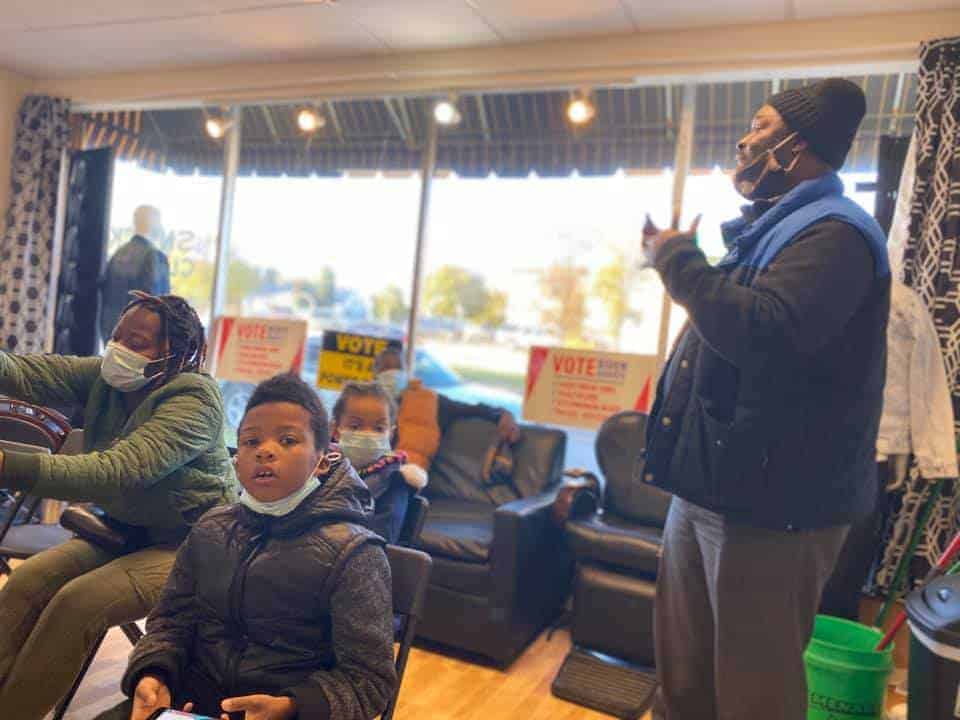 "What's logical is the party I'm going for," said Patterson, who was cutting hair as he weighed in. "I'm going for what's needed."
Republicans are tough sells to some of these men who historically voted Democratic, though. Several of the older men in the room are worried about what they believe is a rise in white supremacy or open racist talk. However, there seemed to be a generational divide on the question of Trump, with those under, say, 30, more open to the president and less locked into traditional partisan allegiance. One such younger man explained his Trump vote by saying, "He's putting more money on the streets," as he jumped into a waiting car and rushed away.
The barbershop was peppered with Biden/Harris signs promising "racial justice," union jobs and health care. A big cardboard cutout of Biden and Kamala Harris was impossible to miss, but organizers said they brought that to make sure Democrats were represented in the conversation because those invited didn't show. Asked whether they blame the local Democrats who essentially control Milwaukee for the local issues they're concerned about, several of the men said they think that's a problem.
Showing the generational divide, Teron Wright, 20, who works at Home Depot, says he is that rarity these days: An undecided voter. He said he might vote for Trump because he "doesn't want to shut down the country. That's the main thing." He's still not sure though, largely because his family has been urging him to vote for Biden.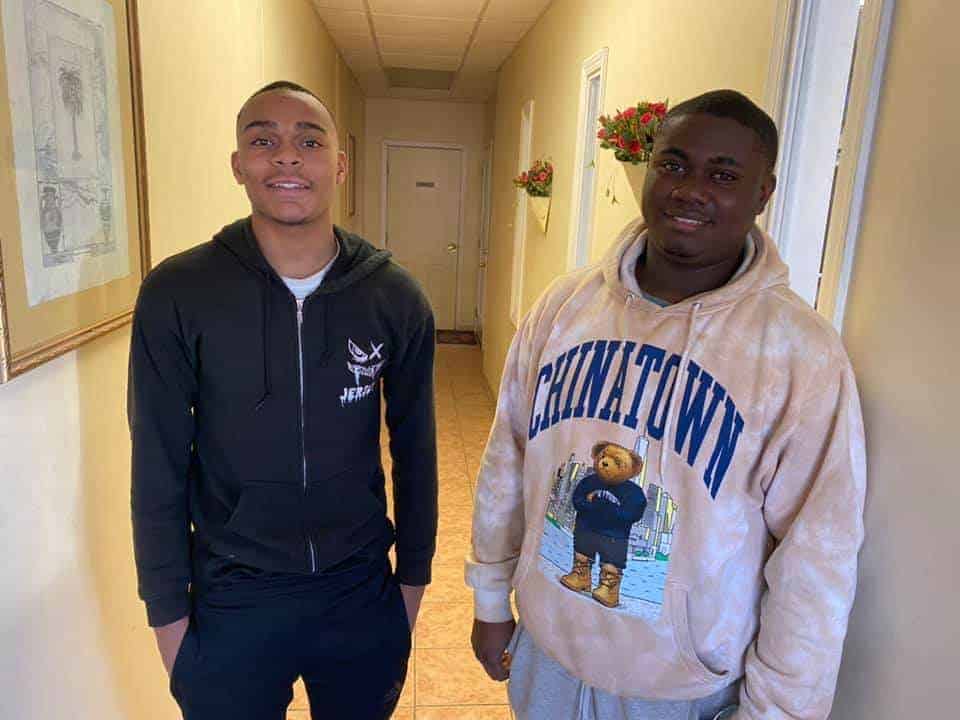 Chris Buchanan, 17, who was with Wright at the barbershop, is too young to vote. He echoed Wright's concerns, saying he plays basketball so hopes for fewer lockdowns. He said he enjoyed hearing the political views while getting his hair cut: "It was nice to hear what they had to say."
The political conversation was the brainchild of Ramiah Whiteside. You may remember the story he was involved in years ago, when he received 25 years in prison after fleeing police and smashing into a bus stop, killing four people. In prison, he met U.S. Senator Ron Johnson, a Republican, and his team, and they invested in his rehabilitation, inside and out, he says. He got a job working as a machinist at first and helps ex-inmates try to reintegrate into