We connect the dots between George Soros, Wisconsin's flagship university and Wisconsin Watch.
Wisconsin Watch, a 501(c)(3) organization that disseminates news stories to many prominent media outlets statewide and is housed at the taxpayer-funded UW-Madison campus, has taken more than $1 million from an organization founded by George Soros over the years. Wisconsin Right Now discovered that the group is still prominently pushing out stories by a writer, Howard Hardee, who was dispatched to Wisconsin by a Soros-funded organization to work on "election integrity" stories and projects.
When major media outlets like WTM-TV and the Wisconsin State Journal run stories by Wisconsin Watch or Hardee, they fail to advise readers that he's a fellow with a Soros-linked group. The group says that "hundreds" of news organizations have shared its stories over the years, giving them wide reach.
Several years ago, Republicans in the state Legislature tried to get the Wisconsin Center for Investigative Journalism, which runs Wisconsin Watch, kicked out of its taxpayer-supported campus offices because of its long Soros' money trail and perceived liberal bias. That effort failed due to Scott Walker's veto pen. By 2016, Wisconsin Watch was claiming it no longer takes Soros money. The center's deal with UW-Madison also involves providing "educational services" and offering paid student internships.
However, the group lists Hardee on its staff listing and runs his stories prominently and pushes them out to news outlets all over the state; the group he's a fellow with, First Draft, received money in 2020 from a Soros' group and other liberal organizations.
First Draft and Hardee are also part of a big collaboration on election reporting with UW-Madison's Center for Journalism Ethics and the Wisconsin Center for Investigative Journalism that they're calling an "Election Integrity Project." Nowhere in their toolkit, which advises readers on how to avoid misinformation (one example it uses is from conservative talk radio host Vicki McKenna), do readers or taxpayers learn about the partisan slant of First Draft's funders, including Soros, or the Election Integrity Project's funder, Craig Newmark Philanthropies.
Hardee co-authored a Nov. 12 story that appeared to be trying to influence public opinion on the presidential election in Wisconsin and elsewhere by turning a factual story into a supposed conspiracy theory. That story misleadingly attempted to discredit factual reporting Wisconsin Right Now did on Milwaukee's top elections official misplacing a key voting flash drive on election night. She did misplace it. She admitted it in a letter. The partisan spin attached to that story seemed obvious, so Wisconsin Right Now decided to look deeper into the funding sources of the groups.
The Nov. 12 story was written by "Howard Hardee (Wisconsin Watch) and Keenan Chen (First Draft)." It was the top story on Wisconsin Watch's website for days. The story quotes a First Draft "writer and researcher" as saying "Readers should also be skeptical of a news source that isn't completely transparent about how it's funded." (Wisconsin Right Now is completely self-funded.)
Wisconsin Right Now reached out to the Center for Journalism Ethics at UW-Madison and its School of Journalism & Mass Communication, and Meredith McGlone, the director of News & Media Relations for the University of Wisconsin-Madison, got back to us. "UW–Madison is committed to providing our journalism students with a top-notch education that supports the principles of objectivity and transparency," she said.
"The Wisconsin Center for Investigative Journalism is an independent nonprofit, nonpartisan organization. In keeping with journalistic best practices, the Center publicly shares where its funding comes from and does not allow funders to influence editorial decisions. "
She added, "UW–Madison provides office space to WCIJ in exchange for WCIJ providing educational services and paid internships to UW–Madison students.  Regarding the Election Integrity Project, we are dedicated to ensuring that this and all other university research is objective and evidence based. The university receives funding support from individuals and organizations across the political spectrum. We have policies in place to prevent funders from inappropriately influencing research. The Election Integrity Project is a non-partisan effort funded by a grant from the Craig Newmark Philanthropies. This funding is disclosed on project materials posted to the Center for Journalism Ethics website."
But how non-partisan is all of this really? Decide for yourself:
---
Big Spending to 'Beat Trump'?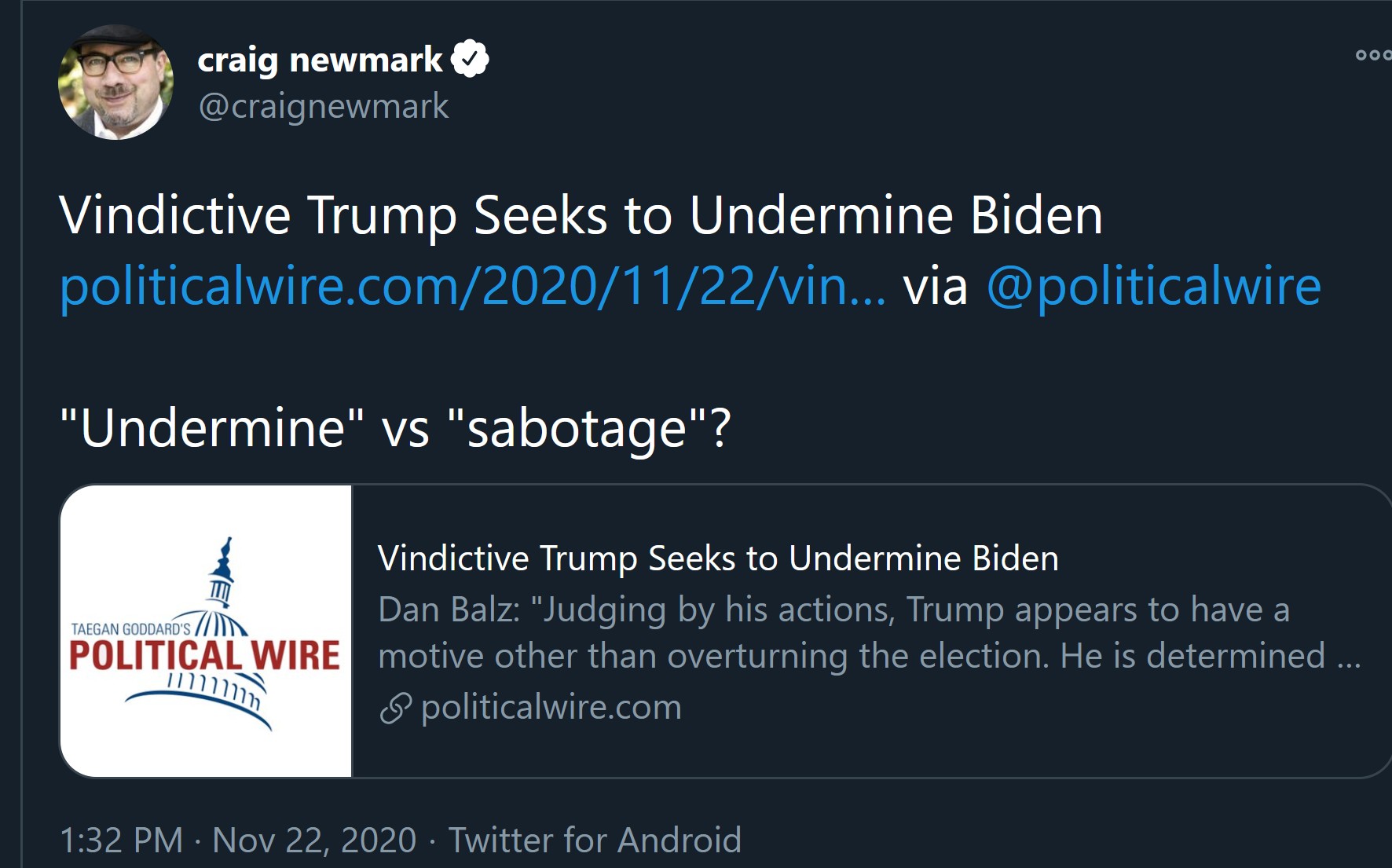 The materials touting the Election Integrity Project claim it's a "nonpartisan initiative of the Wisconsin Center for Investigative Journalism and the Center for Journalism Ethics at UW–Madison in collaboration with First Draft and with the support of Craig Newmark Philanthropies." A Wisconsin Newspaper Association article announcing the project says, "Howard Hardee, a former Wisconsin State Journal reporter and current local news fellow at First Draft News, will be the lead reporter on the project." It also says it received $83,000 in funding from Craig Newmark Philanthropies.
Craig Newmark, the founder of Craig's List, is a major Democratic donor, whose slew of donations to liberal campaigns include $100,000 in 2020 to the Biden Victory Fund. An August 2020 article in Forbes Magazine reported that Newmark, "the billionaire behind Craigslist is spending nearly $200 million to save journalism, beat President Trump and end information warfare." Newmark makes his anti-Trump views obvious on social media.
McGlone insisted, "First Draft did not provide funding to the Election Integrity Project. First Draft is listed as a collaborator because it helped promote and distribute the project's work."
Hardee's staff bio for the Wisconsin Center for Investigative Journalism calls him, "the election integrity reporter at the Wisconsin Center for Investigative Journalism and a local fellow with the international journalism nonprofit First Draft News. "
In March 2020, First Draft announced that Hardee was one of five fellows in key battleground states who would "work across the US to monitor mis- and disinformation online and provide training on best strategies to counter it." The article says they "have received training and developed plans tailored to their five states…Embedded in their communities, each is working with a local media organization or collaboration."

Readers of the materials publicly presented by the Center for Journalism Ethics and Wisconsin Watch would not know that First Draft is funded by Soros unless they thought to drill down to First Draft's own website funding page. Readers of Hardee's Wisconsin Watch stories that are replicated by major news organizations all over the state face a similar lack of immediate transparency. Would any readers think to dig that far down? If you're, say, a reader of WTMJ-TV's story on its website, would you think to go to First Draft and find its funding page and then research the funders of the organizations listed? Would the average reader take that many steps or should the news organizations make the funding sources explicitly clear on their own websites? Again, you decide. Wisconsin Right Now did ask WTMJ-TV's news director for comment and received none back.
Andy Hall, the co-founder of the Wisconsin Center for Investigative Journalism, in an email response to Wisconsin Right Now's questions, didn't dispute any of the Soros' funding, but he tried to explain it away by saying it didn't influence coverage. "The Wisconsin Center for Investigative Journalism stands by its 12-year record of journalistic independence and financial transparency," he told Wisconsin Right Now.
Another "major supporter" of the Wisconsin Watch is The Evjue Foundation, the charitable arm of The Capital Times in Madison, which is a liberal newspaper. It also received money from the Ford Foundation, described by Influence Watch as having "given a great deal of money to left-wing and center-left organizations since its founding."
---
Who Funds First Draft? Its Soros Money Trail